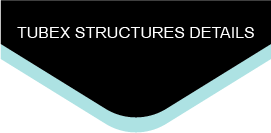 Coming soon in Fall 2021!
Tubex is a visionary concept to create a brand new outdoor experience.
Tubex is a ground independent capsule of sophisticated design which is made up of modular components. Tubex has been designed to create a visionary experience of the outside world. Enjoy the landscape and a wonderful atmosphere while being sheltered from the weather.
The sophisticated design and the beauty of its finish ensure unique and unforgettable experiences.
Create your own adaptive and transformable outdoor space.
Key points;

• Weather Protection
• Panoramic Views
• Space Enhancement
• Facility Improvement
• Versatility
• Increase Productivity
• Immediate profitability
• Differentiation
• Exclusivity
• Customer loyalty
Technical Specifications & Measures;
• Size: A Tubex is a series of cylindrical modules 3.6 m in diameter and 2.06 m long. The modular system allows a range of lengths from 2 m to infinite.
• Height: 2.82 m.
• Aisle width: 2.8 m at ground level; 3.6 m at the diameter point of the arch.
• Exterior width: 3.05 m at ground level.
• Length: From 2.06 m to infinite.
• Weight: 295 kg per linear meter, with containers filled to capacity and no flooring.
Safety Data
• Snow: Snow accumulations up to 0.5 m. Upgradeable up to 1 m in extreme climates.
• Wind: Resistant up to 120 km/h. Upgradeable up to 200 km/h.
• Fire: Fire-resistant materials available for specific uses and regulations.
Assembly
• Modular
• Quick & Easy Installation
• Total Weather-tight Capacity
• High impact-resistant materials
• Eye-Catching Solution
• Cutting Edge Design
• Re-positionable
• No Building License Required
• Environmentally Friendly
• Printable Surface for Advertising
• Low Maintenance
Attract new clientele to your hospitality business, increase your bookings and open your outdoor all year round!
Do you have a project in mind? Contact us!
---