Superior Tent Rentals are proud to be the exclusive carrier of Creative Structures within the Alberta tent rental market.
Winner of the 2019 industry innovation awards, these stunning structures, made and manufactured in the Netherlands, Europe, are a real show stopper.
Made from the finest raw materials, Creative Structures are some of the highest certified products on the tent rental market. CSA approved and snow load engineered for up to 50 lbs per square foot, these snow shedding domes are the perfect choice for year-round installations.
Available in 20'x20', 27'x27', 40'x35', and 50'x47' these domes are fully connectible and have an unmatchable wow factor. They also connect to our range of Warner Clearspan Structures.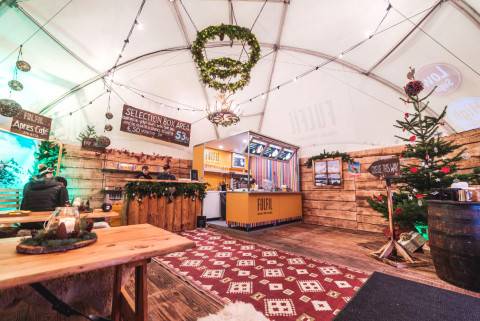 Why creative structures?
There are plenty of reasons to choose a creative structure for your next tent rental.
Unmatched branding and custom print quality – You can't go wrong with our top-of-the-line printing that will make your event look exceptional.
Engineered snow load for winter tenting – Our tents are engineered to withstand the harshest winters, so you can rest assured that your guests will be warm and comfortable no matter what the weather brings.
Wind certifications up to 120kph – We understand that wind is always a potential issue for outdoor events, so we have gone the extra mile to get wind certifications up to 120kph.
Endlessly connectable – Our tents are endlessly connectable, so you can keep adding space as needed. This also makes them incredibly versatile for all sorts of events.
Translucent covers that glow at night – Our translucent covers provide a beautiful glow at night, making your event even more special.
Use down to -40 – You don't have to worry about bad weather ruining your event; our tents can be used down to -40 degrees Celsius!
Fully closeable and heatable – Our tents have you covered whether you need privacy or warmth. They are both fully closeable and fully heatable, ensuring that you stay comfortable no matter what.
Easy mount points for heating, lighting, and screens. These can be tricky to set up in a tent, but not with our easy mount points. You'll have everything up and running in no time!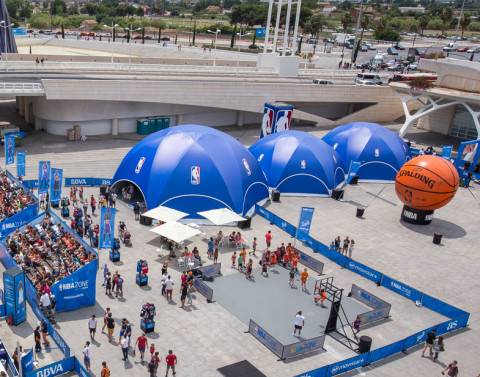 Make it eventful!
Show off your company's logo, branding or message in a fun and memorable way.
Are you looking for a unique and innovative tent rental for your next event or celebration? Look no further than our Creative Structures! We offer custom-branded tents, stage covers, bar tents, and patio tents. Add an extra touch of style to your event no matter the occasion. Our custom-branded tents are the perfect addition to any corporate event or brand activation. Our stage covers are perfect for festivals and weddings, adding an extra touch of class to any celebration. And our bar tents and patio tents are great for outdoor parties and gatherings, providing shelter and style.
Don't let the cold weather stop you from enjoying the outdoors.
Our winter tent rentals allow you to party all year round, whether at a ski hill or a lakeside destination. Let our Creative Structures elevate your event with our unique and innovative tent rental options. Contact us today to see how we can make your gathering one remember.
Creative Structures are the perfect tent rental for
Any event, from corporate to weddings
Brand activation or custom branding opportunities 
Outdoor events, festivals, patios, and even ski hills 
Weatherproof options for rain or snow 
Beautiful, high-quality tents that make a statement 
Lakeside or mountain resort setting? We've got you covered 
Take your event to the next level with a branded bar tent 
Bring Your Vision To Life!
Here at Superior Tent rentals we not only carry the classic equipment you need to run your next special event, but we also have products that are exclusive across Alberta.