Our pole tent rentals are a fabulous choice if you are having a large-scale gathering, pancake breakfast or festival. Pole tents are all-purpose rental tents available in sizes starting at 40' x 40' and going all the way to an enormous 90' × 330'! 
Pole tent rentals are one of the most popular tent designs due to their eye-catching tall peaks which offer high interior ceiling heights making the space feel even larger. These swooping peaks are held up by centre poles throughout the tent and this product is another member of our inventory manufactured right here in Alberta by Warner Shelter Systems Ltd. 
If the pole tent rental is for a ceremony, concert, or special presentation, please remember that the centre poles will need to be accounted for in your design.
Due to their design and size, all pole tents must be staked into the ground. For the safety of our staff, we will require a line locate report before the installation of any pole tent rental. This will allow us to ensure that there are no underground utility lines near the stakes.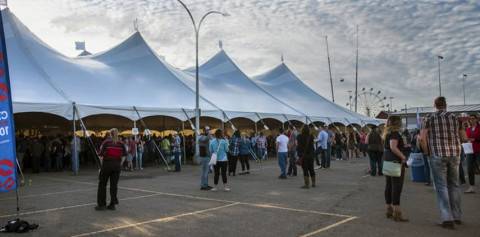 Our Pole Tent Rentals are Perfect for:
Festivals Tent Rentals
Patios
Wedding Tent Rentals
Trade Shows
Catering
BBQs
Corporate Events
Sporting Events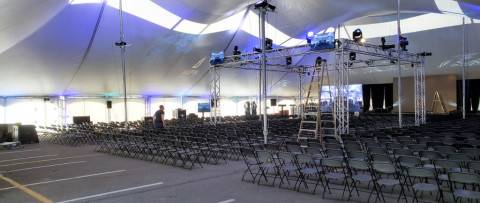 Our pole tent rentals are perfect for a variety of events!
Whether you're looking to host a festival, patio party, wedding, trade show, catering event, BBQ, corporate event, or sporting event, we have the perfect pole tent rental for you. Our tents are made from high-quality materials, So no matter what Mother Nature throws your way, you can rest assured that your guests will be protected from the elements.
Contact us today to learn more about our pole tent rentals.
Let's talk about how we can help make your next event a success!