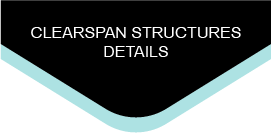 Manufactured right here in Wild Rose Country, our beautiful range of Clearspan Structures, by Warner Shelter Systems, are the perfect option for your next event and tent rental in Alberta. Available in a variety of widths; 30', 40' and 60', these beauties are extremely versatile, offering style and function. Their engineered structure allows for a large tent rental with 10' high side walls that doesn't require any centre poles for support of the arched roof. With no centre poles to obstruct line of sight, the floor plan possibilities are endless. Clearspan tent rentals open concept design makes the perfect outdoor space for your next concert, presentation, ceremony or festival. Our clearspan tent rentals are winter rated for use all year long, which makes them a popular option for winter festivals, such as the Silver Skate Festival in Edmonton or Christmas in November at the Fairmont Jasper Park Lodge.
Functionality and applications include;
• Corporate Events
• Conferences
• Weddings
• Stage Covers
• Long Term Warehousing
• Festival Merchandising
• Food and Beverage
• Bars
• Vehicle Coverage and Valet Parking
• Live Events
• Theatre
Upgrades and accessories include;
• Flooring
• Solid Doors
• Air Conditioning
• Carpet
• Lighting
• Heating
• Television Screens
• AV and Sound Systems
• Star Cloth and lining
Want to know more about what our range of Clearspan structures available to rent in Edmonton and Calgary can add to your event or workspace? Contact us today to talk to one of our tent rental and installation experts.
---