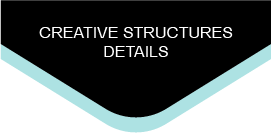 Coming soon in Fall 2021!
Superior Tent Rentals are proud to be the exclusive carrier of Creative Structures within the Alberta tent rental market in partnership with EJH Events and Distribution Ltd.
Winner of the 2019 industry innovation awards, these stunning structures, made and manufactured in the Netherlands, Europe, are a real show stopper.
Made from the finest raw materials, Creative Structures are some of the highest certified products on the tent rental market. CSA approved and snow load engineered for up to 50lbs per square foot, these snow shedding domes are the perfect choice for year-round installations.
Available in 13' × 13', 17' × 17', 20' × 20', 28' × 28', 40' × 35' and 50' × 47' these domes are fully connectible and have an unmatchable wow factor. They also connect to our range of Warner Clearspan Structures.
Why should you choose Creative Structures for your next tent rental?
• Unmatched Branding and Custom Print quality
• Engineered Snow Load for Winter Tenting
• Wind Certifications up to 120kph
• Endlessly Connectable
• Translucent covers that glow at night
• Use down to -40
• Fully Closeable
• Fully Heatable
• Easy mount points for heating, lighting, and screens
• High dead loads
• Unique and stylish design
• Full flooring available
Creative Structures are the perfect tent rental for;
• Corporate Events
• Brand activations
• Custom Branded tents
• Stage Covers
• Wedding Tent rentals
• Festivals
• Patio Tents
• Branded Tents
• Bar tents
• Winter tent rentals
• Lakeside tents
• Wedding Tents
• Ski Hills
• Mountain Resorts
• Tent Rentals Calgary
• Tent Rentals Edmonton
• Tent Rentals Banff
• Tent Rentals Jasper
• Tent Rentals Red Deer
• Tent Rentals Fort McMurray
• Tent Rental Alberta
---