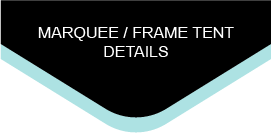 Another member of our tent rental line up made here in Alberta.
A favorite tent for special events, fairs, trade shows, and foodservice use. With its ease of setup and lightweight frame, the original Peak Marquee (MQ) is user-friendly as well as attractive for party or event rentals.
Superior tent rentals marquee tents are available in a variety of sizes from 10' × 10' to 30' × 30'. Marquee tent rentals have a centre pole supported by diagonal cross cables for an obstruction-free interior space. This makes them ideal for an intimate family gathering, customer appreciation event, or festival as there are no centre poles to interfere with your floor plan or decor. Marquee tent rentals can be used on their own or joined together with a tent gutter to create a larger space.
Like all tents, marquee tent rentals need to be secured to the ground for safety. Before the installation of any marquee tent rentals, we require a copy of the line locate report for our staff's safety to ensure that underground lines are not damaged by the stakes. When underground utility lines are present, or when staking is not an option, tents can be secured with cement blocks.
Our Marquee and Frame Tents are Perfect for;
• Festival Tent rentals
• Patio Tent rentals
• Wedding Tent Rentals
• Trade Show Tent Rentals
• Catering Tent Rentals
• BBQ Tent Rentals
• Corporate Tent Rentals
• Sporting Events
• Alberta Tent Rentals
• Edmonton Tent Rentals
• Calgary Tent Rentals
• Red Deer Tent Rentals
• Banff Tent Rentals
• Jasper Tent Rentals
---